Welcome to the Nest, our room for babies. The Nest is designed to make babies aged 1-2 feel safe and nurtured during what is likely to be their first time away from their care-givers, and to stimulate and support them during a period of rapid development.
.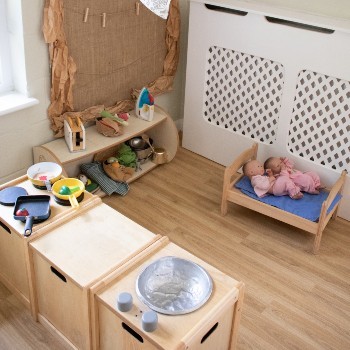 What is The Nest like?
The Nest is fun and friendly. It offers babies access to a range of sensory activities, our gardens, sand pits and messy play. We start to encourage independence with low level furniture such as the low table and chairs, where the children sit to eat together.
Soft furnishings create a homely feel and the sleeping area is cosy, shielded by curtains and calming music plays.
Daily activities may include messy play tuff trays (featuring anything from water, paint, pasta or glitter), mark-making, story books, Teddy bear's picnic and the cars and road mat.
We will work closely with you to ensure your baby's normal routine is mirrored as closely as possible, and will partner with you on your approach to key milestones such as weaning.
The staff to child radio is 1:3.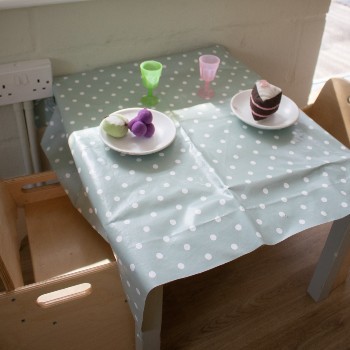 .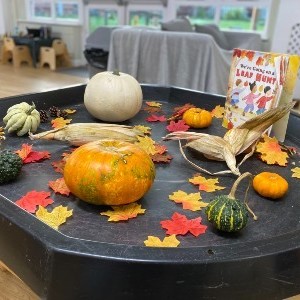 An example day in The Nest:
8-9am: Early starters will mix with The Cubby attendees.
9.15am: Carpet time is usually quite quick in the Nest! We sing the hello song with the Nest's bear, Ted, and encourage children to have their listening ears on. We look at the weather and chat about the day's activities.
9.30am: Free play, inside or outside.
9.30-10am: Snack, such as toast or fruit, inside or outside (wherever they are!).
11am: Come inside, change nappies and get ready for lunch.
11.20am: Singing on the carpet before lunch, may include singing to a CD or using musical instruments.
11.30-12pm: Lunch.
12pm: Back to playing inside or outside.
2pm: Snack, such as cheese thins or rich tea biscuits.
2.45pm: Come inside and tidy up ready for home time.
3-4pm: Late finishers will continue free play.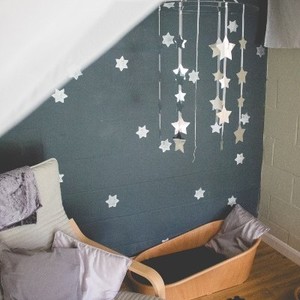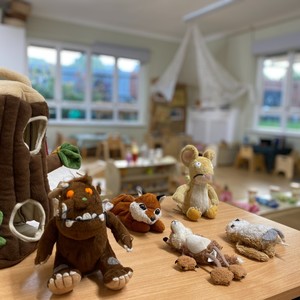 Who works in the Nest?
Caroline, Jenny, Angela, Marina (between The Nest and The Cubby). Read more about The Nest team on our staff page.
Back to our rooms.