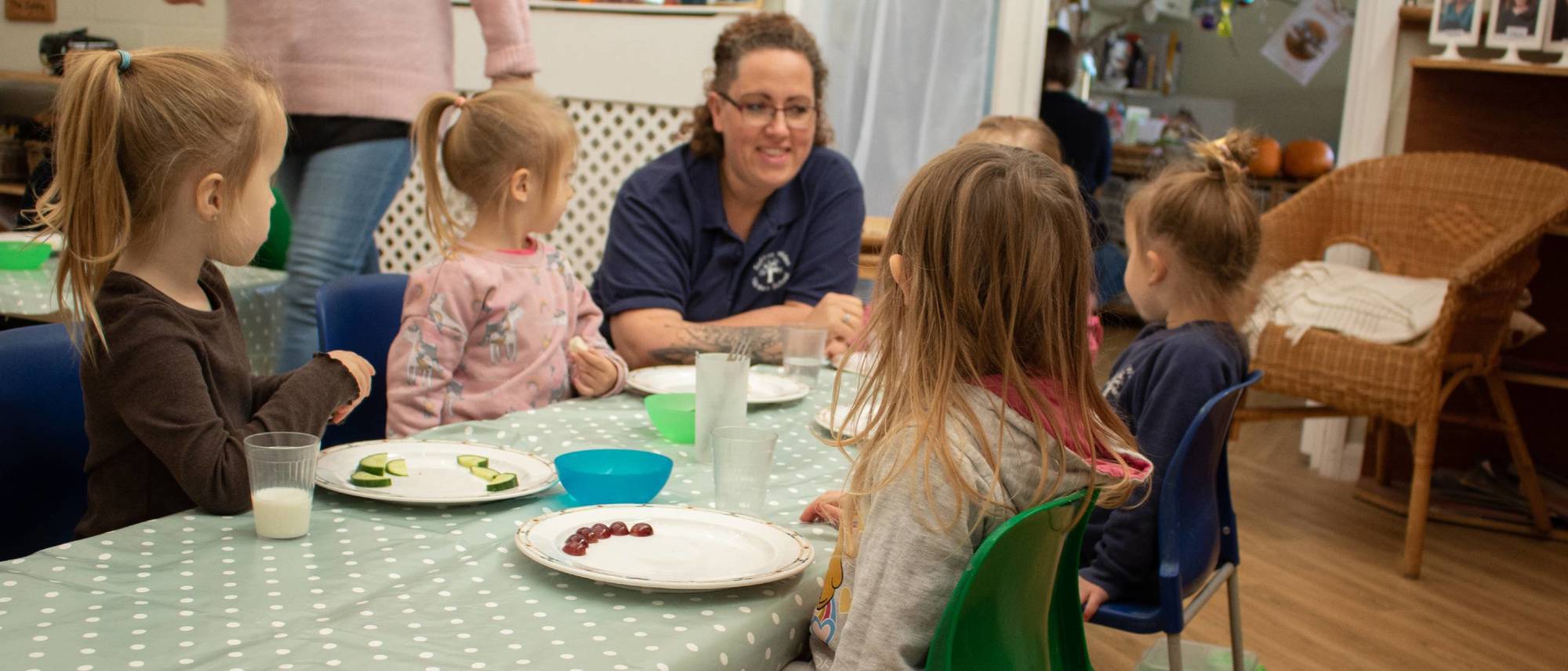 Advice and guidance for a balanced lunch.
Healthy lunches
Staying for lunch at nursery is an exciting time as the children learn to eat independently. At Saffron Walden Nursery School, we ask that you provide your child(ren) with a healthy and balanced packed lunch.
Spending the day learning and playing requires the right sort of fuel, so it is essential at lunch time they receive the right nutrients to better concentrate, improve their learning and to support their healthy growth and development.



What type of foods should go into your child's lunch box?
To create a healthy, balanced lunch box, it is best to include at least one of each food group: starchy foods, fruits and vegetables, protein and dairy.
Below are some examples for each food group, and suggested portion sizes:
Starchy foods
Choose one:
Sandwiches 1/2-1 slice of bread
Tortilla wraps 1/2 a wrap
Pasta 2-5 tablespoons
Pitta bread 1/2-1 medium pitta
Fruit and vegetables
Choose one/two:


Banana 1/4-1 medium
Apple 1/4-1/2 medium
Raisins 1/2-2 tablespoons
Vegetable sticks e.g. carrot/cucumber 2-8 sticks
Tomatoes 1-4 cut in half
Grapes 3-10 cut in half, lengthways
Protein
Choose one:
Ham 1/2-1 small slice
Tuna 1/2 - 1 tablespoon
Egg 1/2-1 egg
Cocktail sausage 2-4 sausages, cut in half length ways
Dairy
Choose one:
Cheese 1 cheese triangle or 2-3 tablespoons of grated cheese
Yoghurt 125ml or one tube
Food high in fat and sugar
Choose one:
Crisps 4-6 crisps
Biscuits (plain or chocolate coated) 1
Popcorn - 1/2-1 cup
Flapjack small piece

Cake small piece
Is there anything I should avoid?
Children at nursery are still very young and need a highly nutritious diet. Foods that are highly processed and contain large amounts of additives, salt and sugar should be avoided.
We are a nut free zone and cannot allow any items that contain nuts to be consumed in the nursery.
Please avoid:
Pesto
Sweets
Chocolate bars/buttons etc
Fruit juice or squash
Chocolate spread
Food that contains nuts
We reserve the right to send home any of the above products.
Please note: We are unable to reheat any food provided.
Choking hazards
Foods such as grapes, large blueberries, olives, cocktail sausages and cherry tomatoes are choking hazards. Please cut them lengthways to make them safer for eating.
Half eaten foods
We place whatever your child hasn't eaten back in their lunch box. This is so you can see what they have eaten. If they have eaten everything we will simply throw away the empty packaging.
What lunch box shall I use?
At nursery we are unable to refrigerate the lunches your child brings in. Please pack their food in an insulated cool bag with a small ice pack.
We provide all children with a drink of milk or water, no additional drink is needed.
Please ensure your child's lunch box is name and left on the shelves outside the classroom.
Top tips:
Really think about how much you put into your child's lunchbox. Please only put in the amount of food you would normally expect your child to eat.
Children love mouth-sized bites in exciting tubs to open.
Give children things that are familiar to them.
Vary the contents - the same food every day can become boring.
Bake biscuits and cakes with your child. It's a lovely activity and can often be healthier than ready-made alternatives.
Where can I find out more?
If you are unsure about any aspect of your child's packed lunch, please do speak to your child's Key Person.
Useful links:
BBC Good Food lunch box inspiration